Self-Care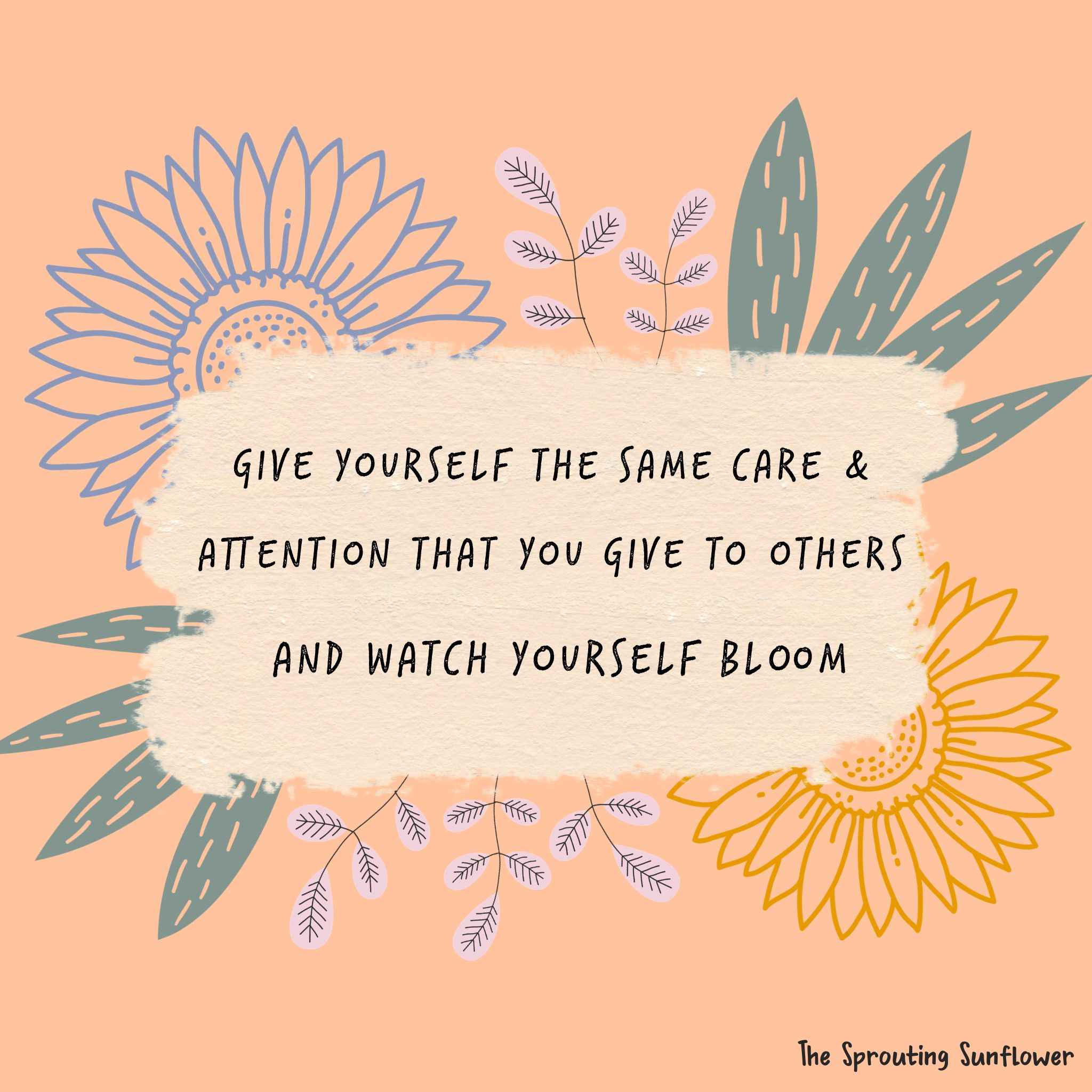 Join our self care group run by Gabriela Krainer. If you are interested in joining the virtual group, please email her at gabriela.krainer@fcaweb.org.
September 15, 2020
Hello everyone,Just a reminder we will be meeting this Thursday @ 11:00am. We will continue focusing on Self-care. -See Survival Tips below-
I hope you can all make it!:)
Self-Care Initiative😊
Survival tips:
Making time to rest and relax.
Staying connected with our friends, family, colleagues.
Avoiding burnout and overwork.
Setting appropriate boundaries with work, family & media.

Exercising, running, walking, skydivin

g, your choice😊
Self-Care journey ❤️
I finally got back to do trails!!:) Exploring a new forest to me is exhilarating, every time is different, each forest is different, you never know what you're going to find, what the challenges you're going to face are 🙂 🌿🌿🌿
These are some of the trails I've explored so far 🌲 and I'll be adding more as I go:)

—-////——//—-
Self-Care journey ❤️

❤️ I want to thank our Self-care group for all the sustained encouragement I have received from each group members to finally start exercising !!:) It just took me six months!!:) to finally be able to go back to my love for trails❤️
When all this is over & it will be, let's do an FCA hiking all together, in-person to celebrate!!🌟 For now just let's get ready!! ❤️ Our Self-Care group is an open group to support & inspire each other.
Food for thought:
How to Stay Sane When the World Seems Crazy https://www.nytimes.com/2020/03/23/smarter-living/coronavirus-coping-tips.html
Hello everyone,
We had a great meeting on self-care last Thursday! Thank you to those that were able to participate, you made great contributions!
Latest Meeting Minutes:
Ideas that emerged from the meeting:
*What are we feeling?
~ "Missing connections, for some not being able to adventure outside, sadness seeing things that we feel we have lost: our way of living, wanting to see people like before, when there was no need to wear a mask, tiredness, anxiety, hard to conceptualize time, stress, our home which used to be our sanctuary has become our work".
* We can we do?
~ Change the lens with which we see things:) When we see people with masks, seeing them not with sadness but as how my community cares:)
~ Remembering to be grateful, to be alive.
~ Going outside, immerse ourselves in nature, do safe outings!!:) Fishing, camping, exercising! yoga, mindfulness.
~There is something that the Japanese call "shinrin-yoku" or "forest bathing". This is not exercise, or hiking, or jogging. It is simply being in nature, connecting with it through our senses of sight, hearing, taste, smell and touch.
https://time.com/5259602/japanese-forest-bathing/
~ Can we use this as an opportunity to be creative? to reinvent ourselves? Do things that we couldn't do before? such as learn a language, learn to dance tango?:))
Join this initiative!:) This is just for us, to be able to speak our minds in a judgement-free space, to support each other, bring, to share with others.
Our goal for these next two weeks: start moving or dancing or jumping or walking:) Let's support each other, let's help each other to stay active, to stay healthy.
You did something amazing, take a pict, share it with us! inspire others to do what you are doing:)
We have a section at our FCA employee's webpage where we can post pictures & share our stories, inspire others. Who wants to join?:)
Please get back to me if you want to participate in this new initiative.
Thank you all!
Gabriela
Self-Care Training Opportunities
The Art of Living Well
Join us for a day of relaxing wellness activities and educational lifestyle workshops designed to help you make your self-care a priority.
Sat, September 12, 2020, 10:00am-2:00pm
To register:

https://www.eventbrite.com/e/the-art-of-living-well-tickets-115911527499?aff=Mountainsidecom
Event Schedule
10:00 AM – 10:30 AM: Beginner's Guide to Acupressure & Essential Oils
Mini self-acupressure session guided by a licensed acupuncturist to help you instantly relieve anxiety and stress.
10:30 AM – 11:00 AM: Gardening 101
Gardening basics from horticulture experts – what to grow and when, how to create your own indoor garden, and why your plants may not be thriving.
11:00 AM – 11:30 AM: Eating for a Healthier You
Guidance from a nutritionist how to boost energy and mood through smart food choices that also support long-term health and wellness.
11:30 AM – 12:15 PM: Getting Back to Work
Expert advice from recovery coaches to help you in your job search, advance your career, and practice better work-life balance.
12:15 PM – 1:00 PM: Look Good & Feel Great
Tips and tricks from a famous grooming guru and Project Runway star to help you look and feel your best and improve your self-confidence too.
1:00 PM – 1:30 PM: Authenticity & Personal Empowerment
Workshop led by a licensed mental health professional and mindfulness expert to help you get in touch with what you truly want and determine the steps to achieve it.
More activities to be announced. Schedule is subject to change.
EVENT INFORMATION
This is a fundraising event. All ticket sales will be donated a NYC-based non-profit organization committed to helping underserved and at-risk individuals build a brighter future. When purchasing a ticket, please select whichever amount you would like to donate. Together we can make a difference.
This will be a virtual event using Microsoft Teams. While you can use Microsoft Teams on a browser, we recommend downloading the free desktop or phone app for the best experience. Please be sure to do so prior to the event.
You will receive the link to the link to the Microsoft Teams meeting via email prior to the event.
This event is appropriate and open to everyone because #selfcarematters!
Resilience and Self-Care Basics for Helping Professionals
1.5 hours – completely online – free
Self-care and resilience are often practices we're introducing to our students, clients, and patients, but it is imperative to also practice self-care ourselves as helping professionals. This 1.5-hour course is free, completely online, and self-paced and accessible from any of your devices as long as you have internet!
https://courses.centerforadolescentstudies.com/resilience-and-self-care-basics-for-helping-professionals/