Weekly COVID-19 Updates
Below are summaries of the weekly COVID-19 Updates.
February 1, 2021
Governor's Address:
Numbers from Fri, Sat, Sun:
+3931 new cases
3.86% positivity rate (7 day average now under 4%)
Hospitalizations down by 73 (9 straight days where overall number of people hospitalized has decreased each day)
Sadly an additional 73 people died
45% of people 75 and older have had their first dose of vaccine in CT
He will now allow churches to have 50% capacity with masks and social distancing
Restaurants will remain at 50% but will be able to stay open until 11pm
In 10 days age 65 and over will be able to receive the vaccine
December 30, 2020
To my fellow FCA family,

I hope this message finds you healthy and that you are finding a safe and peaceful way to spend this holiday season.

2021 is upon us. We find hope with vaccines now available. The distribution is a bit slower than anticipated. We are monitoring the guidelines set forth by the CT Department of Public Health to determine exactly when FCA can submit its roster of employees who can then register to receive the vaccine. We will send out notice as soon as our window opens up.

In the meantime, the most contagious and difficult time of the pandemic has arrived. It has been a long 10 months, and COVID fatigue is here. But, we can't let our guard down. I urge all of you to be the most diligent you have been in avoiding social gatherings of any kind, wearing your masks, avoiding unnecessary travel.

If you are working in any in-person capacity, it is vital that you take all precautions outside of work. You not only have the health of yourself and families to consider, but your fellow employees and clients. Your decisions outside of work greatly effect those you work with at FCA. Please give careful thought and consideration during this time of increased contagion and spread.

And please, while at work, wear your masks at all times. If you briefly have to lower your mask to eat, drink etc., please make sure that you are far away from other staff and clients.

In good health,

drj
December 14, 2020
3 days worth of numbers from Fri, Sat, Sun

+ 7231 new cases

positivity rate 6.08%

net total of 33 more hospitalized

81 more people died from the virus

Much of the discussion was about the vaccine. This first week they hope to distribute 31,200 doses total split between hospital staff and nursing home residents. Week two they hope to distribute 98,400 more
December 1, 2020
Governor's Address:
4.4% positivity rate for Fri, Sat and Sun combined.

7 day average now down to 4.7% Hopefully trend down continues but we have to see how Thanksgiving get-togethers impact the numbers.

81 more hospitalizations and 59 more deaths. As the positivity rate decreases, these numbers continue to rise.

Governor received a letter from several physicians and nurses urging him to close gyms, indoor dining and ban unnecessary gatherings. He is not doing this as of now. He will continue to monitor hospital and ICU capacity and may consider these options in the future if we get to a critical point. He did urge residents to maximize take out and curbside pick up from local restaurants and stores rather than going to them. He said he will speak with those who wrote the letter in a meeting tomorrow.

It is interesting to note that Rhode Island has reached their hospital capacity and is opening up field hospitals.

In terms of vaccine, state expects Pfizer to deliver 20,000 doses around Dec 14th and Moderna another 20,000 doses a week later.
November 25, 2020
Dear Fellow FCA Employees:
First, I want to extend my gratitude to you all for your hard work and dedication amidst the continued challenges we are all facing. Thank you and I hope you have a restful and rejuvenating Thanksgiving.
There are concerns for increased spread over the Thanksgiving Holiday and the CDC and our Governor have urged for caution and very small gatherings within your own bubble. Please keep safety in mind as you make your decisions. An interesting point the Governor made on Monday was that even within a small gathering, if some of those people are outside of your home bubble, there is close to a 25% chance that someone could be positive for COVID-19 in Fairfield and New Haven counties.
Here is a reminder of the best practices both in and outside of work:
Wear a mask (N-95 at work)
Remain socially distant
Wash your hands frequently
Avoid participating in social gatherings (including within families)
Monitor your health closely and if you are feeling ill, DO NOT come to work and call your supervisor
If you or someone you live with has been tested for COVID-19, DO NOT come to work and notify your supervisor immediately!
Attached is a decision tree that you can consider using if you have any symptoms or possible exposures. And of course, you can always reach out to Robyn Hoffman, APRN, with any questions related to COVID-19 situations you may encounter.

In good health,
Dr. J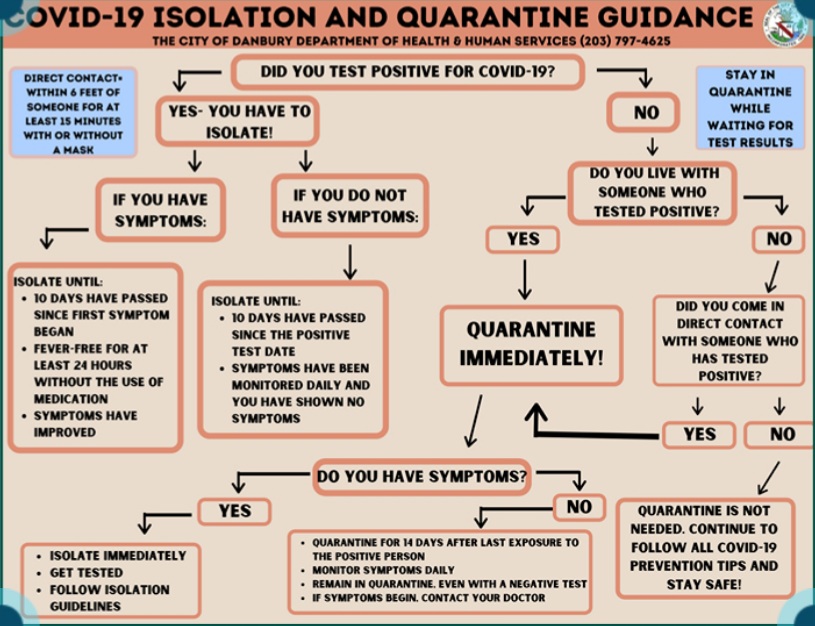 November 23, 2020
Over three days, Fri, Sat, Sun:

4.8% positivity rate (7 day average now a bit lower at 5.5%)

There were over 109,000 tests completed with 5721 being positive. Over 250,000 tests in a week. We have quite a large testing capacity at this point.

Unfortunately there were 27 more hospitalized and 43 more deaths from the virus.

There is no change to current phase in CT.

The Governor emphasized that a negative test does not mean that you can socialize!

An interesting point made was that for a small gathering of 10 people outside of your normal bubble, there is close to a 25% chance that one of them is positive for COVID-19 in Fairfield and New Haven counties.

In terms of the State Department of Education, their goal remains for local municipalities to make decisions related to school model changes and moves to distance learning. There is not statewide metric in place for a statewide decision at this point.

They announced a new initiative called Step up CT. This initiative is to recruit volunteers to help with food delivery and other non-profit services as well as the potential for some paid positions related to help in staffing schools, testing sites, etc. They said anyone can sign up but they stressed potentially students home from college being useful in keeping schools staffed over the next several weeks as more teachers have to quarantine.

Governor reports peak of positive cases expected around mid to late January. While they plan for doses of vaccine to be in CT and starting to roll out by the end of December, they are still working out the priority populations. The goal for a broadly distributed vaccine for all CT residents who want it to be mid to late summer.
November 19, 2020
Over last 24 hours:

6.5% positivity rate for Wednesday.

7 day average reported by governor to be "about 5.8%"

21 additional deaths

24 additional hospitalizations.

Another measure to try to keep schools open is to cancel all team and club sports starting 11/23 through at least 1/19. Professional and college sports to remain open.
August 21, 2020
Dear Fellow FCA Employees,
I hope this email finds you healthy. It is hard to believe August is half over and that school is closely approaching.
One of the key reasons CT is able to even consider the possibility of having school partly in person is due to listening to the science. FCA has also been proudly and diligently listening to the science. One of the nation's leading experts, Dr. Anthony Fauci, identified 5 things that are a must in decreasing the spread of COVID-19 and getting a hold of this pandemic:
wearing a mask
physical social distancing
avoiding crowds
doing things outdoors rather than indoors
diligent hand washing
Here is a link to a recent interview Dr. Fauci gave that discusses these 5 musts as well as expertly answering other key questions:
https://www.pbs.org/newshour/show/fauci-says-despite-upcoming-election-science-will-not-be-politicized
It is imperative that we continue to keep his recommendations at the forefront of our decisions both inside and outside of work. We can't let our guards down. It is why the transmission rate is so low in CT. As many of our programs have remained in face-to-face operations, and others have resumed some limited return to the office and/or face-to-face sessions, we must remain diligent in continuing these practices to keep ourselves, our clients and co-workers safe.
Attached to this email is the updated FCA Information & Guildelines Related to COVID-19. There have been some minor additions and modifications so please review thoroughly and refer any questions to your supervisor.
In good health,
drj
July 31, 2020
Dear Fellow FCA Staff Members:

It is hard to believe that August is upon us and we have been in the throws of this pandemic for over 5 months now. I hope you are enduring well and have the support you need.

As you may have heard, good news was shared recently that the Department of Social Services (DSS) has continued all current regulations for telehealth through March of 2021. This will continue to give us the flexibility we need to provide high quality service through phone and video sessions while we continue to plan for various stages of recovery and re-opening. As always, the health and safety of our employees and clients is the top priority of our decision making.

FCA is currently at "Phase Yellow" in most programs. We have made the decision to move to an all color system. You will find attached to this email, as well as in your program specific COVID-19 Recovery Plan, further clarification of parameters for each color. This will give you some guidance around when FCA moves from one color to another and all that we have to take into account in making that decision.

In our current phase, there have been some limited face-to-face sessions outdoors in IICAPS and Foster Care. So far, these are going well and we continue to review and assess they are completed in as safe a way as possible. There are also several large spaces identified in the Child Guidance Clinic where indoor face-to-face sessions can occur, but only if clinically necessary and if staff open to it. We are also looking at phasing in some outdoor face-to-face visitations with some of our RTFT clients.

The next big change will be with EXTEND. We are developing plans to re-open EXTEND when the Danbury school year begins. There has been much thought, construction and planning. We will only have 50% of our typical attendance in the building while also offering virtual support and programming for other clients. Of course, these plans can change at any time, as there are still several weeks prior to school, and what the pandemic will look like at that time in unknown.

And finally, school. I know many of you are facing the decision of whether to send your children back to school or learn from home. There are so many factors at play - health and safety; risk to your loved ones; what will school look like; what will my employer allow for; will my children get the instruction they need if they are home; how will I handle things if and when it all changes suddenly. Please know that we all think about how this impacts you at the leadership level. We have many essential staff that have to report to work each day and others in programs that have more flexibility. There is no easy answer for us or you, but please keep your supervisor informed of what situation you are facing. We can talk it through and try to provide the best support we can.

Here is a link to a recent New York Times article: "Opening Schools Won't Be Easy, but Here's How to Do It Safely"

Not all schools will be able to restart. For those that can, the focus should be on more than just the classroom.

https://www.nytimes.com/2020/07/29/opinion/coronavirus-schools-reopen.html?smid=em-share

In good health,

drj
July 13, 2020
TO: All FCA Staff Members
Our weekly COVID-19 update (dated July 13th) is attached. While there are no changes, we continue to stress that you should review the document to ensure you are up-to-speed with our current guidelines, procedures and the general information we share.
Dana Hillman and Roger Chappuis have been working on our website. They have developed an employee only section, which is embedded into our public website. This will allow for sharing of resources and providing pertinent and up to date information (including the weekly update) for all staff. The web address is:
http://www.fcaweb.org/employees/
In addition to the update, attached is a document that specifies (on a scale of 1 to 10) the current risk levels for 37 common day-to-day activities. I recommend you keep this document handy to reference - especially when you plan to venture out from the safety of your home. Also, you may want to share the document with your family and friends.
FCA is looking for ideas from our fantastic and creative employees to help enhance our telehealth practices. We anticipate some form of telehealth to remain in place for the foreseeable future and hopefully beyond the pandemic. If you are interested in joining a small work group to focus on telehealth or have any ideas or feedback you would like to share, please contact Robyn Hoffman (robyn.hoffman@fcaweb.org).
Finally, I'm sure you are aware that the virus has subsided a bit in our area, but is spiking in places such as Florida, Arizona, Texas, etc. The improvement in our area is being directly attributed to our discipline of wearing face masks and maintaining appropriate physical distancing. Please continue to protect yourself (and others) by continuing to practice these important new disciplines, as they are proving to be effective in slowing the spread of the virus. Many parts of the country and world continue to show significant COVID-19 spread. As you consider your plans for PTO in the future, please remember to notify your supervisor of any travel outside of CT so that we can determine your eligibility to work at FCA locations, and re-familiarize yourself with the travel policy in our attached FCA weekly COVID-19 update.
In good health...
drj
*Please see your email to access attachments
June 26, 2020
TO: All FCA Staff Members
Attached is this weeks' COVID-19 Information & Guidelines. Even though it has not changed since the last version that was distributed (on June 12th), we encourage you continue to review the document closely so you understand the FCA guidelines for travel, working in an FCA office, and handling illnesses.
Recently, many of our staff members took the opportunity to participate in the recent "Management During the Pandemic" online survey. The data showed that most staff members feel our current communication strategies are effective and most feel well-supported by their supervisor and by the Agency during this most difficult time. I can assure you that we will continue with our various communication strategies (weekly updates, surveys, audio messages, etc.) to keep you updated on internal policies (travel, facility procedures, protocols relating to illnesses) and any regulatory decisions that may effect the Agency (e.g., the future of telehealth).
Once again, thank you for your continued dedication and hard work and please have a safe, healthy and restful weekend.
In good health...
Dr. J
June 12, 2020
To All FCA Employees:
Attached is our weekly FCA Information & Guidelines Related to COVID-19 AND an audio message from me. The written guidelines have not changed much from last week, but as always, please review and be familiar with them.

My audio message this week will address the the State's Upcoming next phase in, June 17th. As any business and provider would, we continue to plan for many different possibilities. There still is much uncertainty and no indication for an immediate need to change how we are operating at this time. Please take the time to listen and let us know if you have any questions or concerns.

I continue to be extremely grateful for all the hard work and effort you give to our agency and the clients and families we serve. I also want to thank our reception staff who continue to come into the clinic each day, managing our main hub and lending us all support. Enjoy the beautiful weather this weekend.
In good health,
Dr. J