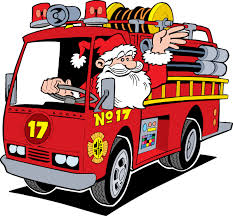 Santa will lead a caravan of ten Danbury fire trucks loaded with toys to be delivered to Family & Children's Aid this Saturday, December 19th at 10:00 a.m. The toys will be passed into Family & Children's Aid's Life is Good Playmaker Village by a chain of staff, children and community members, including a troop of Girl Scouts from Ridgefield.
Every Friday evening since Thanksgiving three different Danbury volunteer firehouses have taken two-hour shifts from 5 to 11PM volunteering their time collecting toys outside of Toys R Us for the 1,700 children served by Family & Children's Aid each month.
The event was the brain child of Jen Ortega, a supervisor at Home Depot by day and recording secretary for the Engine 4 Company of the Danbury volunteer firefighters by night. She wanted to collect toys for the children served by Family & Children's Aid and thought the fire trucks would be a great draw. "Not for nothing, but people like big red fire trucks. And standing outside of a store is a lot easier than asking people to come in and drop gifts off."
"Jen Ortega is really the driving force behind this," said Pete Hornik from Engine 4. "She organizes this whole thing."
Now in its second year, 10 of the 12 volunteer fire companies participate. "Most of the companies started asking me in April if they were doing it again this year," said Jen. "Everybody was already in."
"Without the cooperation of all the other volunteer companies in Danbury this would not be nearly as successful as it is. It really is a group effort," said Pete.
Pete participates for several reasons. "Part of it is knowing you are helping someone out at this time of year.
There are a lot of kids that are not as fortunate as my own children are. It's a way to help them out and it's another way the volunteer firefighters can offer our support and work together with the community to help out a lot of people in just one event."
Pete's favorite part comes at the end when they deliver the toys to Family & Children's Aid in a caravan of fire trucks. "We have a lot of fun unloading the trucks. There's a lot of camaraderie. Afterwards we get to go inside and see all the great things you do at Family & Children's Aid," he said.
"Let me put it this way, even before I joined my brother was a firefighter for 25 years," said Jen. "They all come together for anything they can possibly make happen. It's a true brotherhood, a real family."
As if firefighters, fire trucks and Santa are not enough, the Chick-Fil-A cow mascot and Sparky, the Firefighters Explorer's Juniors mascot will also be there.
Refreshments are graciously being provided by Chick-Fil-A of the Danbury Fair Mall. All are welcome to attend.
Event Details
Danbury Volunteer Firefighters deliver toys to Family & Children's Aid
Saturday, December 19, 2015
10:00 AM
Family & Children's Aid
80 West Street
Danbury, CT 06810
Refreshments provided by Chick-Fil-A of Danbury

Danbury Volunteer Fire Companies who will be coming on Saturday are: Padanaram Hose Co. # 3, Independent Hose Co. # 4, Wooster Hose Co. # 5, Citizens Hose Co. # 6, Phoenix Hose Co. # 8, Beckerle Hose Co. # 9, Germantown Hose Co. # 10, Beaver Brook Fire Co. # 11, Mill Plain Fire Co. # 12 and Miry Brook Fire Co. # 13
About Family & Children's Aid
Family & Children's Aid (FCA) provides high quality, innovative, behavioral and mental health care to children and their families. Our therapeutic techniques help children who have experienced trauma, abuse or neglect heal so they can choose their own futures rather than allowing their experiences and illnesses to dictate their futures for them. For more information about Family & Children's Aid, please visit fcaweb.org.
---