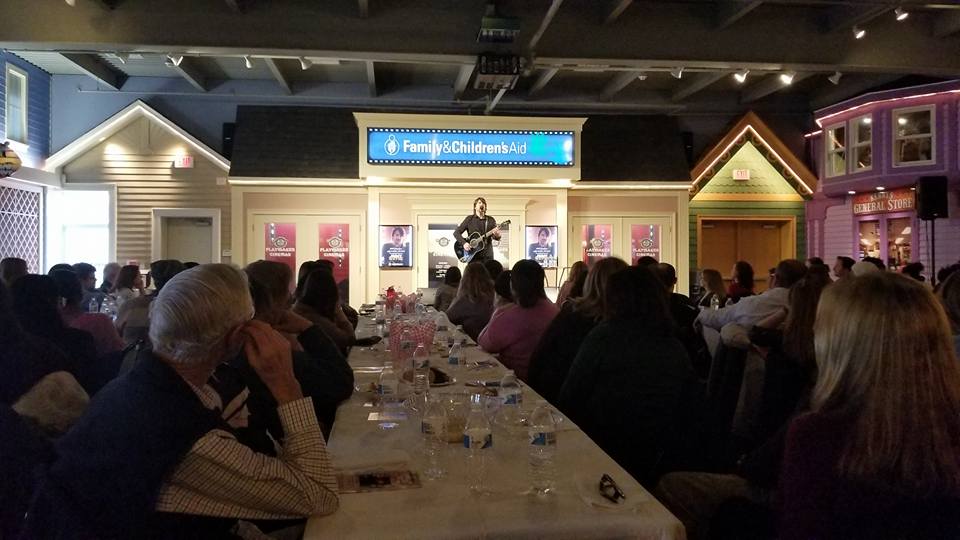 Every year, Family & Children's Aid holds a luncheon to honor our dedicated, hard-working employees. Awards are given out to those who have completed five-years or more of service with some staff receiving awards for 20 years or more!
This year we had Jimmy Wayne come for a special performance and story-telling. Jimmy is a former foster kid turned award-winning country recording artist whose songs and story highlight his mission to raise awareness for children in foster care. Jimmy's hits include "Stay Gone," "Paper Angels," "I Love You This Much" and "Do You Believe Me Now," which earned BMI's prestigious Million-Air Award marking one million radio spins in America. In 2009, Jimmy toured with Brad Paisley and recorded "Sara Smile" with rock 'n roll Hall of Fame duo Daryl Hall and John Oates.

In 2010, Jimmy walked halfway across America (from Nashville to Phoenix) to raise awareness for kids aging out of the foster-care system. In 2012, Jimmy helped get legislative bills passed extending the age of foster care to 21 in California, Tennessee, North Carolina, and Ohio. In 2014 he released Walk to Beautiful: The Power of Love and a Homeless Kid Who Found the Way, a three-time New York Times bestselling memoir which quickly crossed the 100,000 print sales milestone. In 2016 he received the prestigious Points of Light award from President George W. Bush (41), and in 2017 he received an honorary Doctorate of Humane Letters from William Woods University.

Jimmy has performed on the Grand Ole Opry more than 215 times. He lives in Nashville and continues to work tirelessly on behalf of at-risk foster youth by performing, writing books, and keynote speaking. Jimmy's ultimate goal is to build transitional homes for youth who age out of foster care without a place to live.
To be able to hear firsthand how someone turned their life around was very rewarding for our staff. This is what we work for at Family & Children's Aid every day.
---