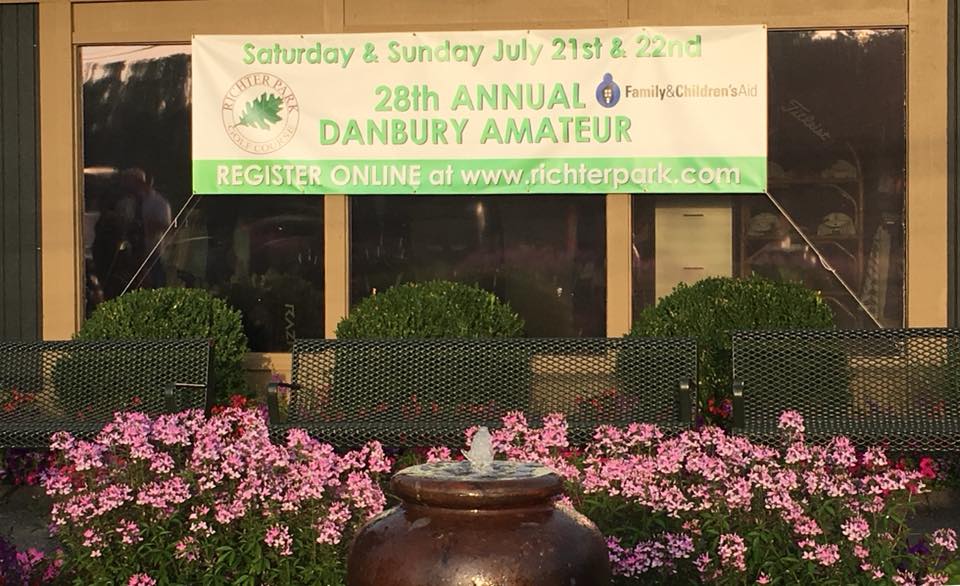 This year's Danbury Amateur once again benefited Family & Children's Aid.
Original Article from the NewsTimes
DANBURY — Golf being a sport of inches never seemed so appropriate than at the 18th hole of the Danbury Amateur Sunday afternoon at Richter Park.
With the tournament on the line and the top two golfers locked in a tie, Enfield's Brent Dietz — playing in the penultimate group — chipped in for birdie from just off the green, giving himself a one-shot lead and the win in the 28th annual tournament.
The birdie capped a two-under par 70 for Dietz, who was playing at Richter Park for just the second time and first for this tournament. He entered the
final round four shots off the lead but birdied three straight holes to surge ahead midway through the round.
"I was just trying to get it close," said Dietz of the shot. "That's all I tried to do; sometimes they fall in when you focus on trying to get it close. It was pretty cool I have to say for sure."
Defending champion Ned Zachar also had a chance from a similar position but his effort was just short of the cup, just missing out on a playoff. A gust of rain overtook the 18th green as Zachar was lining up the shot.
"I knew it was straight uphill into the wind and into the rain." Zachar said. "I have to give this one a whack and I did, it came up a foot short; when I hit it, I thought it was good."
Zachar competed at the U.S. Senior Open in Colorado Springs earlier this month, certainly a career highlight for any golfer. He competed in several qualifiers over the past few years to no avail, but shot a 69 before winning a playoff last May in Union, New Jersey.
That meant he got to play alongside several greats of the sport, including Fred Couples and Miguel Angel Jimenez.
"It was like fantasy-camp type stuff, it was unbelievable," said Zachar, a Bedford, New York resident. "When I turned 50 I thought the Senior Open was a plausible opportunity. I finally came up with a score in the 60s and it was a thrill of a lifetime."
Douglas Plaskett and Andrew Lord finished in a tie for third with a score of 150, while Jordan Sanyshyn and Thomas McGimpsey — who led after one round thanks to a two-under 70 — finished fifth in 151.
Golfers dodged rain and gusty wins to complete their second rounds on Sunday. Stamford resident Jim Romaniello won his second straight title out of the senior championship flight, carding rounds of 77 and 78 to win.
"I played better today than I did yesterday even though I shot lower yesterday," Romaniello said. "I'm always working on my game; my coach Tom Wilson helped me and (Danbury resident) Ken Green helped me last week."
Quinnipiac rising junior Alexandra Sazhin took home the women's title, carding rounds of 76 and 77. Sazhin — who grew up in Russia — was a standout at Greenwich High School before moving to New Fairfield prior to college.
"I personally had a few off holes and a few good holes, so it was just golf at its finest really," Sazhin said. "They get the ratio between fast greens to greens that aren't really impossible very well. Some of the holes are just gorgeous. It's a challenging course but enjoyable to play."
twitter.com/ryanlacey11
Danbury Amateur Championship Day 2
Men's Championship Flight: 1. Brent Dietz 74-70 144; 2. Ned Zachar 70-75 145; 3. Douglas Plaskett 74-76 150; 3. Andrew Lord 74-76 150; 5. Jordan Sanyshyn 76-75 151; 5. Thomas McGimpsey 70-81 151; 7. Harry Zdziarski 77-75 152; 8. Matthew Jackson 78-76 154; 8. Tyler Lanza 77-77 154.
Ladies' Championship Flight: 1. Alexandra Sazhin 76-77 153; 2. Jen Holland 80-80 160; 3. Genevieve Courtney 73-88 161.
Senior Championship Flight: 1. Jim Romaniello 77-78 155; 2. Dale Burgess 81-76 157; 3. James Kennedy 78-80 158; 4. Paul Dinardo 75-84 159; 4. Jim Tierney 78-81 159; 6. Mike Natale 80-80 160; 6. Bob Brunetti 77-83 160; 8. Ray Underwood 81-81 162; 9. James Gallagher 83-84 167; 9. Tony Daloisio 84-83 167.
---