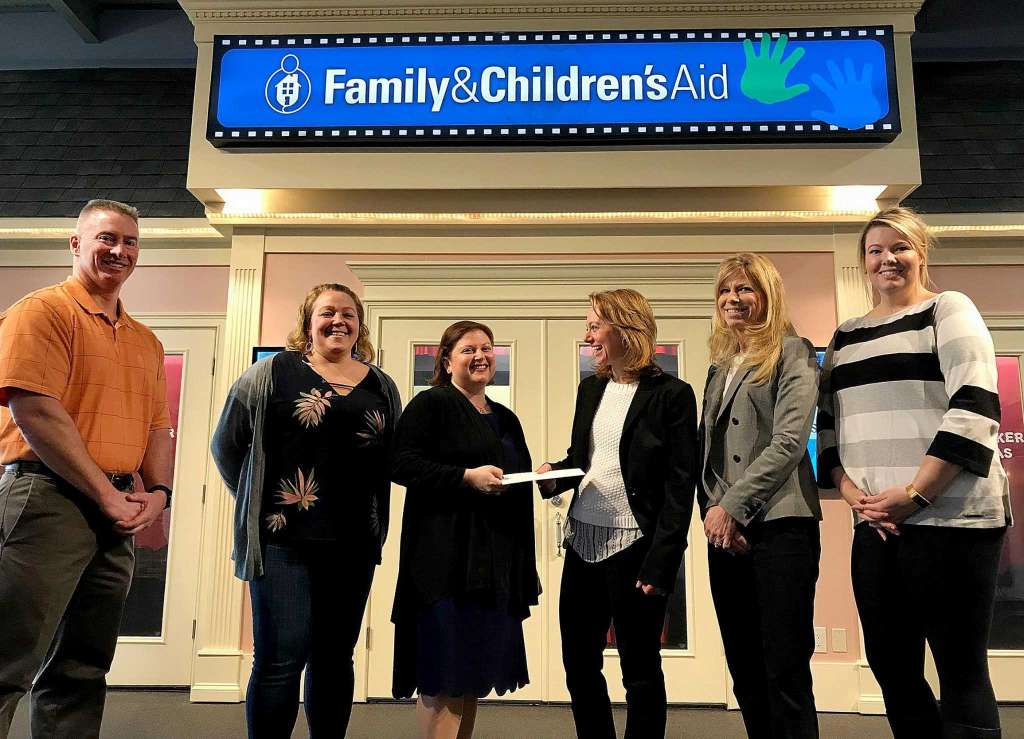 Article in the NewsTimes by Chris Bosak
Instead of pocketing a free $20, members of Leadership Danbury pooled the cash, dug deeper into their own wallets and donated more than $1,200 to Family & Children's Aid.
Steven Greenberg, vice president and mortgage loan officer with Newtown Savings Bank, gave a $20 bill during the orientation meeting to each member of Leadership Danbury, a program of the Greater Danbury Chamber of Commerce. Greenberg, a 1993 graduate of Leadership Danbury, also shared a story during the meeting about how nonprofit organizations helped him and his first wife while she battled cancer.
"I told them they could buy lunch or dinner or some cocktails. If that would help their mental health, that's great," Greenberg said. "But I said if a few got together and pooled their money it would be worth more than on its own."
Each of the approximately 30 members of Leadership Danbury donated the money to FCA in memory of Casey Rose Shanahan, a former employee of the nonprofit organization who died in January. She was the daughter of Terence Shanahan, former deputy police chief in Danbury and a member of Leadership Danbury in 1993.
"(Greenberg) encourages the members to think about what they can do with that $20," Joann Cueva of the Greater Danbury Chamber of Commerce said.
Current Leadership Danbury participant Lt. Michael Sturdevant of Danbury Police said each member gave their $20 and many donated more.
"It just expanded beyond that. It was amazing," he said. "Everyone from Leadership really stepped up huge."
Greenberg, whose first wife died in 1999, welcomed the news.
"The reality is, this is why the Danbury community is so great," he said when told of the donation. "Plus, they gave on their own, too. People are more and more amazing. God bless every one of them. You have to stand up for people in life and I'm proud they stood up."
Cueva of the Danbury Chamber of Commerce said philanthropy and community is a big part of Leadership Danbury each year. The program develops the region's local leadership potential through a nine-month course that includes themes such as media, health care, education, economic development, law enforcement and transportation.
"The donation is a prime example of what the program is supposed to do," Amelia Anderson of the Greater Danbury Chamber of Commerce said.
Family & Children's Aid is based in Danbury and has offices throughout the state, including Bridgeport, Shelton and New Milford. It is a child-focused nonprofit offering mental health, therapeutic support, safe homes and other services for children and their families.
Its 21,000-square-foot facility in Danbury includes updated areas for children to play such as Playmaker Village and Harmony Station.
Allison Carballo, director of development at Family & Children's Aid, accepted the check from Leadership Danbury during a brief presentation at the organization's Danbury headquarters. The presentation also included Cueva, Anderson, Sturdevant, Lynn Michaelson of FCA and Sabrina DeFazio, president and CEO of Western Connecticut Federal Credit Union and member of the current Danbury Leadership class.
"We are so grateful that the Leadership Danbury Class of 2018 chose to remember Casey Rose Shanahan in this way. As a member of our team at Family & Children's Aid, Casey Rose brought so much creativity and compassion to her role," she said. "We miss seeing her sweet smile the most. All funds raised in her memory will go toward our PeaceLove Expressive Art Studios."
Link to original article in the NewsTimes
---