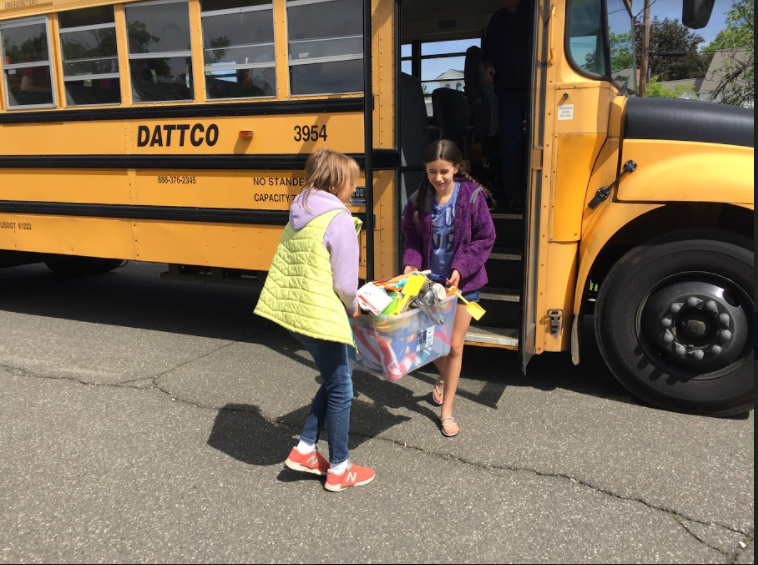 Article from the Redding Pilot. Link to original: https://www.thereddingpilot.com/46231/redding-students-support-danbury-nonprofit/
The Outreach Program at John Read Middle School in Redding has once again made a difference in the lives of those less fortunate.
During the last few weeks of school, JRMS teamed up with the Montessori School of Redding to collect summer items for children at Family & Children's Aid in Danbury.
"The students decided on this drive, created the flyers on their own time and publicized this drive themselves. We collected over 100 pairs of flip flops, bath suits, towels and toys for children in need," said Suzen Stewart, coordinator of the school's Outreach Club, which helps people in need through fundraisers.
The campaign began after April break and ran for a month. "It was completely kid-driven. They came in before school and hung up the flyers around the school," said Stewart, who also teaches math and science at JRMS.
Once the items were collected, Outreach members — made up of about 20 students ranging from ages 10 to 13 — delivered the items to the Danbury Department of Family and Children's Aid, a nonprofit organization that provides mental health care for children and their families.
"When supplies came in, the children had to make sure all the donations made it into my classroom, then they loaded supplies on a bus and delivered it to Danbury," Stewart said.
"The entire school participated by bringing in beach items and summer clothes to the school. We collected items for two or three weeks," said Carli Jean Caraluzzi, 13, who took part in the drive with her brother, Caden, 11. "We filled about three or four large bins," she added.
Carli Jean said she has been participating in fundraisers since she entered JRMS. "I think it's a good idea to help people in need. It makes you feel good when you know you can give back to people who don't have as much," she said. "I think that more people should get involved in giving back to those less fortunate."
It was Caden's first year taking part in the drive. "I did it because I thought it would be fun to donate to organizations and charities. I felt good when I did this. I felt like I was helping people who didn't have things that I have. I think it was a good experience," he said.
Caden said it's important to help others. "With this fundraiser, I learned that you should always help people because sometimes you don't know what the people you are donating to are going through," he said.
Maya Cotter, 10, also took part in the fundraiser. She said this was not her first time participating in a project like this. "At Redding Elementary School, I was involved in the school's Kindness Club and I like helping out," she said.
She said that she feels the Outreach Club is really making a difference. "I think if I needed stuff, it would be really helpful if I had these items. I think that everybody should keep helping others," she said.
Maya said her favorite part in the fundraiser was exploring Family & Children's Aid and seeing how the organization worked. "There was a lot of fun things there that helped kids. There was a pool of popcorn, a giant lego room where you got to build stuff and a disco basketball court. All these things help kids be happy," Maya said.
Stewart explained children go to Family and Children's Aid for therapy sessions. "When they are done, they can select one of the items that we collected. It's an incentive-based program for them to go to their therapy."
She added that she was was very pleased the students wanted to do the follow through and deliver the items they collected. "In this way, they got to actually see where it was going," she said.
For each fundraiser the Outreach kids participate in, they decide what they want to collect and donate. "It's a kid-driven group. The kids make all the decisions and my job is to help make it happen," Stewart said.
John Read Middle School's Outreach Club meets several times a month throughout the school year, before the school day begins. Over the years, students in the Outreach Club have participated in fundraisers including the St. Baldrick's Foundation for children with cancer, the Redding Food Pantry and the Leukemia & Lymphoma Society.
"The kids are aware that they are fortunate in Redding and they have more than some of the children in surrounding areas do," Stewart said.
---