Our History
1809: Our First Adoption
Betsy and Thomas Sloan reluctantly gave up their daughter for adoption to a Family & Children's Aid predecessor organization on Sept. 27, 1809. Most children cared for by the charities in the 1800s were not orphans, but casualties of family circumstances like illness, poverty, or a simple lack of someone to look after them.
1813: Jane M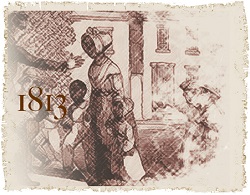 In 1813, a Family & Children's Aid predecessor agreed to educate Jane M., who was of African decent. Even in Connecticut, this was a revolutionary move at the time. The founders of today's Family & Children's Aid were courageous and innovative as our leaders are today, advocating to change public opinion and never refusing or segregating a child because of color once she or he was in their care. Jane M. was one of the children who found a welcome here back then.
1833: No Qualms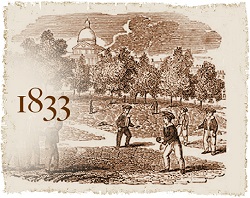 19th-century reformers had no qualms about removing children from families considered too "degraded" to raise them correctly. Eight boys came to a Family & Children's Aid predecessor in 1833; only one was a full orphan. The others had fathers who were "victims of intemperance" or mothers described in admission records as "abandoned characters."
1836-1903: Virginia Thrall Smith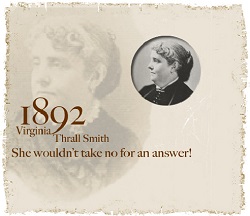 Mrs. Smith organized the Connecticut Children's Aid Society in 1892. She was a visionary who fought poverty with kind words and practical aid. She organized sewing and cooking schools, a loan fund to help families in crisis, and a free employment bureau. Child saving became her passion. Mrs. Smith's immortal words "For Every Child, a Home…" are the motto of Family & Children's Aid to this day.
She set up Hartford's first free kindergarten, rescued children from horrifying conditions in the town poorhouses of the day, and created precursors of some of today's Family & Children's Aid's community programs for children and families. As a member of a state investigating team in 1882, she discovered more than 2,500 Connecticut children living in town poorhouses, surrounded by petty criminals and the mentally ill. With a band of friends, she lobbied for their release, and found foster or adoptive homes for many of them. For handicapped children, who were not so easily adoptable, she set up a Newington home that developed into Newington Children's Hospital and is now the prestigious Connecticut Children's Medical Center.
1925: New Idea for a Village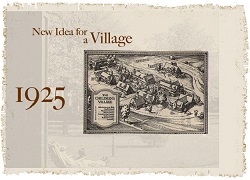 A 16-acre gift of land from Rev. Francis Goodwin became the nucleus of a new idea for the early Family & Children's Aid. A campus of brick and slate-roofed cottages took shape around a central green in 1925 at 1680 Albany Avenue – back then, a part of rural Hartford, Connecticut. The new campus took the name Children's Village.
1927: All Grown Up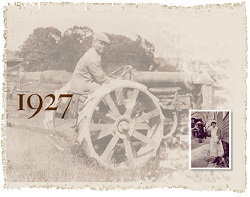 Just like today, many of the young people once in the care of Family & Children's Aid predecessor organizations did well when they were all grown up. Paul, once an abandoned baby, graduated from the University of Connecticut School of Agriculture and managed his foster parents' farm. Janet, described in documents as "a backward girl showing all the effect of association with a cruel and immoral father," was executive secretary of a business firm by 1927. And Celia, whose mother had died and whose father deserted her, had become a nurse.
1935: A New Concept: Child Guidance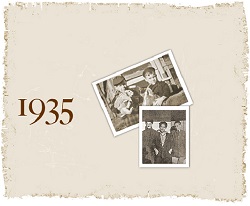 The emotional health of each child became a priority for Family & Children's Aid predecessor organizations in the 1930s. Other institutions sought our assistance with innovations in social work practices. Increasingly, town police departments and juvenile courts referred children to early social service organizations in recognition of successes in helping the children become productive members of society. Child guidance became the watchword.
1946: After the War: Families Reunite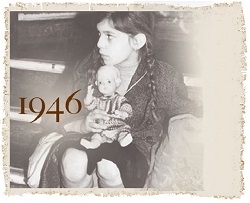 World War II created the pressures of loss and grief for families as well as disruption from military service.
Family & Children's Aid predecessors provided counseling and adoption services for unmarried mothers and day care for children of women working in "defense" factories. At wars end… families reunited. Parents voluntarily entrusted their children to this care and as their circumstances changed for the better were able to reunite their families – an early example of the same practice at today's Family & Children's Aid.
1950: Auxiliaries Formed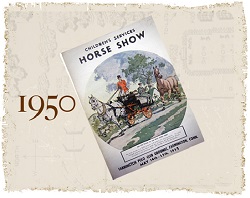 Many predecessors of today's Family and Children's Aid began unifying in 1950. The newly minted organization took the name "Children's Services of Connecticut." At the new organization, immediate emergency placement became a standard practice in child protection and care of children.
Also in the 1950s civic-minded women – many of whom had adopted children from one of the Family & Children's Aid predecessors – formed auxiliaries. These corps of women created opportunities for channeling funds to the charity of choice.
1964: Services Innovations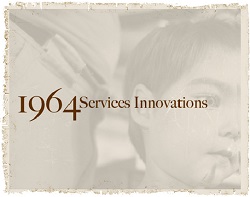 Today's emphasis on partnerships and collaboration with other community agencies took form in the 1960s. For example, educational, medical, and social services to young unmarried mothers began as a partnership with Community Renewal Team. Another innovation, a day treatment program, opened with a primary goal of preventing institutionalization. Referrals commonly came from state social service organizations beginning in the 1960s.
1970: Public Policy Advocate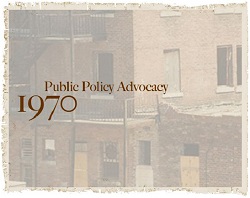 Helping to shape government social policies became a priority for our predecessor organization in 1970. Even today, our experience with addressing issues of child abuse and neglect and behavior issues and mental health makes Family & Children's Aid a statewide leader on issues of child welfare whose opinion is sought when crafting public policy to address such issues.
1973: Family & Children's Aid
The Danbury and Norwalk offices of Child & Family Services of Connecticut separate from their parent agency in Hartford, officially becoming Family & Children's Aid. Family & Children's Aid continued to be an advocate for children throughout southwestern Connecticut.
1978: Danbury's Child Guidance Clinic
Family & Children's Aid opens their Child Guidance Clinic at 75 West Street in Danbury. The Danbury and Norwalk offices split, becoming independent not-for-profit agencies.
1980s: Hope for the Future
A joint committee of Board and staff members began planning for the future of agency services. Careful planning is crucial at this time, when all divisions are facing increasing demands for services plus severe financial pressures brought on by inflation.
1999: For Every, Child a Home… Keeping the Promise
Family & Children's Aid opens the Danbury Safe Home, the first home in Danbury for displaced children.
The addition of the Safe Home begins a period of substantial growth at Family & Children's Aid. Family & Children's Aid would go on to operate five group homes for children in Danbury and Shelton, caring for over 1,100 children from 1999 to the present.
2005: Meeting the Need
Family & Children's Aid expands their services to include in-home clinical teams and foster care. The addition of these two programs gives Family & Children's Aid the opportunity to treat children in the clinic, within the group homes, and now in the home.
2007: You Need It to Spread It
Family & Children's Aid begins its partnership with Project Joy, which eventually becomes the Life is Good Playmakers® in 2010. The Playmaker approach to using play to help children navigate the impact of psychiatric trauma is embraced by Family & Children's Aid and integrated into all therapeutic programs and inspires the Playmaker Village in the Behavioral Health Center.
2011: Changing the Face of Mental Health
Family & Children's Aid opens the new Behavioral Health Center at 80 West Street in Danbury on October 15th, 2011. Responding to the call for stronger wraparound services, Family & Children's Aid set out to build a unique outpatient facility that could offer the support needed in the greater Danbury area. In the first year of operation the Behavioral Health Center saw an increase of over 200% in therapeutic visits.
2012: 12/14/12
Following a call for support from Danbury Hospital Chief of Psychiatry Dr. Chuck Herrick, Dr. Jennings deployed his clinical team to the Sandy Hook Volunteer Fire House to provide therapeutic support. Working with community partners, Family & Children's Aid took the lead to launch the Reed Drop-In Center, providing crisis response for children and families in Newtown from December through May 2013.
2013: Growth in Waterbury
The previous decade was one of significant growth for Family & Children's Aid, much of this expansion taking place in Waterbury. The service needs grew substantially, leading to the move of our in-home programs to the former Waterbury Day School and expanding our outpatient services in the former Waterbury Club.
Today and Tomorrow…
Family & Children's Aid continues to grow, adding programs to support foster families and treat teenage substance abuse, and developing partnerships with schools, health care providers, and nonprofit agencies to meet the mental health needs of children throughout the region, improving children's emotional and behavioral health.